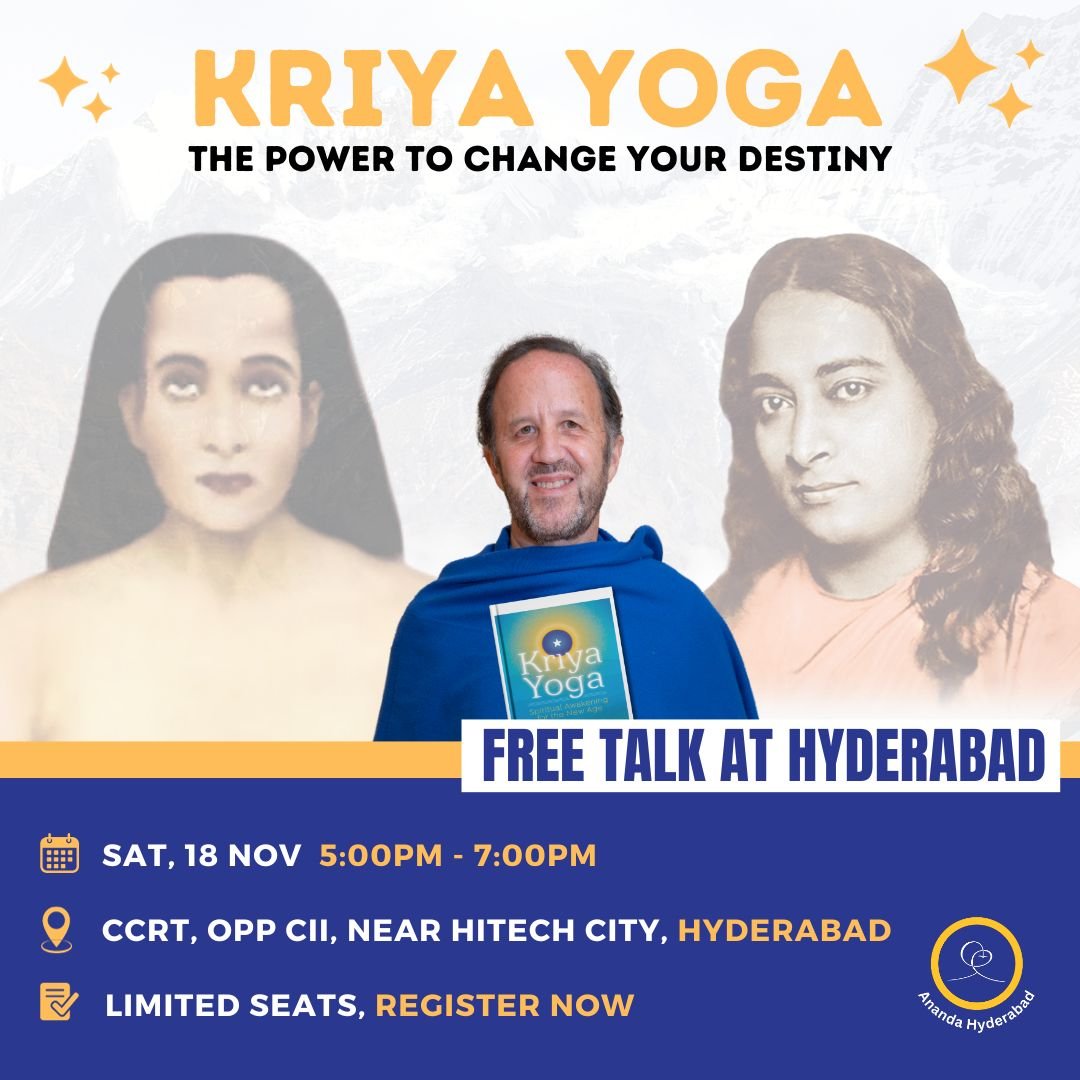 The event is not limited to any specific group of people and is open to individuals of all age groups & from diverse backgrounds. It is for those who are interested in spiritual growth, personal transformation, seeking inner peace & holistic well being. Whether you are a professional, businessperson, householder, student or senior citizen, this event is for you!
Learn the secrets of self-realization as taught by the great spiritual master, Paramhansa Yogananda, and discover the untapped potential within you. Kriya Yoga is a proven path to uncovering your true self and reaching new heights in life.
In a world filled with chaos and stress, Kriya Yoga offers a path to inner peace. Attend this event to learn how to quiet the mind and find tranquility even amidst life's challenges.
Kriya Yoga focuses on the holistic well-being of individuals, addressing physical, mental, and spiritual aspects. Discover how a balanced approach to life can lead to greater happiness and fulfillment.
Kriya Yoga is not limited to any specific group or belief system. It embraces diversity and respects all spiritual paths. 
Listen to Nayaswami Devarshi talk about his book 'Kriya Yoga: Spiritual Awakening for the New Age' which not only elucidates the philosophy and practice of Kriya Yoga but also beautifully articulates how this sacred discipline aligns with our Dharma, our inherent life purpose.
Learn powerful & proven techniques in "How to Meditate" classes post the event from knowledgeable experts.
Kriya Yoga is an ancient and sacred practice of meditation that aims to promote self-realization, inner peace, and a deeper connection with the divine. It is a systematic and powerful form of Yoga that includes a combination of techniques, including meditation, controlled breathing, and various forms of concentration.
One of the most revered and renowned spiritual Masters, Paramhansa Yogananda, introduced the practice to the West through his book "Autobiography of a Yogi." It is based on ancient Yogic teachings and is traditionally passed down from teacher to student. To practice Kriya Yoga effectively, many individuals seek initiation and guidance from qualified Kriya Yoga teachers or gurus.
Ananda Sangha, often referred to as simply "Ananda," is a spiritual community and organization founded by Swami Kriyananda (born J. Donald Walters) in 1968 who was a direct disciple of Paramhansa Yogananda. Ananda is a worldwide movement of truth seeking souls who share the search for higher consciousness, and the joy of serving others. We strive to disseminate the practical, universal teachings of Kriya Yoga, as taught by Paramhansa Yogananda & our line of Gurus.
Ananda Sangha is open to people of all backgrounds and faiths & is a global network of communities and individuals committed to living a life that integrates spirituality with daily activities.
Nayaswami Devarshi
Devarshi Ji, a dedicated practitioner of Kriya Yoga, recently launched his book titled 'Kriya Yoga: Spiritual Awakening for the New Age,' in India. This book is a treasure trove of wisdom that extends its embrace to everyone, from budding yogis to seasoned practitioners.
In this book, Devarshi Ji delves into the profound significance of Yogic teachings in our modern lives, shedding light on the transformative role of Kriya Yoga. 'Kriya Yoga: Spiritual Awakening for the New Age' is an invaluable guide for those seeking spiritual growth, providing insights and inspiration to illuminate the way.
Nayaswami Shankara
Shankara Ji's journey with Swami Kriyananda began in 2003, and he remained by his side until 2013. His unwavering dedication to the path of Kriya Yoga has nurtured countless souls on their spiritual journeys.
As a senior monk at the Ananda Monastery in Chandigarh, Shankara Ji travels within India and internationally tirelessly sharing the art of meditation through public lectures and classes. He co-founded the Ananda Kriya Yoga Home Study Course with Nayaswami Devarshiji, extending the light of Kriya Yoga into Singapore, South Africa, New Zealand, and across India, from the NCR region to Kolkata, Hyderabad, and beyond.
Why should you register even though it's a free event ?
Kindly do register for this free event, as it is vital for securing your seat, ensuring your access to important event details, and allowing us to share further information with you, especially given the limited seats available.
We hope to see you there!